We are an active town centre Church in the heart of Mid Suffolk within the Diocese of St Edmundsbury and Ipswich.
Despite continuing limitations on the use of the Church building the Church is very much alive! At the moment the best way to contact us is to call the vicarage on (01449) 678623.
---
*** BREAKING NEWS ***
We are pleased to announce that the West End Project is scheduled to start on 14th June. The work is to include levelling the floor from the tower entrance to the aisle that goes across the Church joining the side doors. Linked into this are the associated heating pipes and extra radiators that are needed to keep the Church warm and cosy in winter. On the right-hand side, as you come in will be the new Children's Corner, and to the left will be the new Café style serving facility. There haven't been improvements on this scale for nearly 200 years when the latest, modern amenities were put in to make the Church more suitable for people worshipping in the days of the young Queen Victoria. With this West End Project, we aim to transform the impressive building we have now to be a safe, welcoming environment which can better fulfil the modern uses that are being demanded of it and make it the best place in Stowmarket for people to come to.
More information on the West End Project page HERE
---
We are now open again for worship! There will be a service in Church each Sunday at 10am with communion on the 4th Sunday of each month. Covid restrictions remain in place with handwashing, mask wearing, social distancing and no singing or refreshments after the service at the moment.

To help us plan seating please book each week by calling the vicarage on (01449) 678623.

Services will continue to be live streamed on YouTube and available for replay for around 4 weeks. We can also make a DVD of the service for you to watch at home, please call the vicarage if you would like a DVD.
---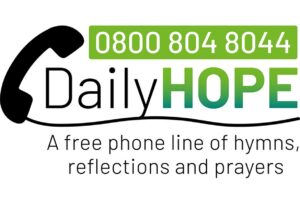 Daily Hope offers music, prayers and reflections as well as full worship services from the Church of England at the end of a telephone line. The line – which is available 24 hours a day on 0800 804 8044 – has been set up particularly with those unable to join online church services during the period of restrictions in mind.
---