21 November 2020 to 2 January 2021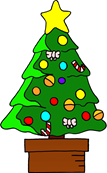 Traditionally Stowmarket Christmas Tree Festival is one of the largest winter attractions in the region with hundreds of Christmas trees and tens of thousands of visitors. It all began over a weekend in 2005 with eighty trees decorated by members of the congregation in St Peter and St Mary's Church. Since then it has expanded with trees now also decorated by community groups, organisations, charities and schools as well as by families and individuals in four more town centre venues from November to January. It has to be seen to be believed and is suitable for all ages.
This year has been a year like no other and the same will be true of Stowmarket Christmas Tree Festival in the Parish Church. Various adjustments have been made to ensure that all the guidelines and social distancing measures will allow your experience of seeing the trees in church to be as safe as possible. You will need to comply with the latest government regulations by wearing a facemask, by social distancing and using the hand sanitizers situated around the church.
We will be open on Monday, Thursday and Saturday each week and visitors will need to book a designated time slot beforehand (the booking system is currently being finalised).
The trees, depicting the Nativity, will still be spectacular with lots of lights, sparkle and tinsel to bring joy and hope, which this year is needed more than ever. There will be a space for you to sit and reflect, to pray and to respond as you go round the church.
There isn't a charge to see the trees although donations are encouraged and this can be done using our contactless card machine.
The church is unable to serve refreshments this year, but we are looking forward to having the back of church upgraded including a new refreshment area which will enable your visit next year to be even more enjoyable.
You will be able to find decorated Christmas trees in four other places and all within walking distance of each other in the heart of Stowmarket town centre. The library just across the churchyard will have trees decorated around the theme of Christmas songs, those in Abbot's Hall in the Museum of East Anglian Life will portray Christmas music and our new venue this year, The Walnut, will emphasize fellowship and companionship – Hospitalitree. Trees in the garden at Red Gables add a Winter Woodland dimension to the Festival. Please see websites and social media for opening times.
Due to the ongoing Covid-19 situation please be aware that things could change at short notice, but we hope to welcome you to this popular community event during November and December.